Meet Sean, a Senior Parcel Fabric Technician
Senior Parcel Fabric Technician Sean is responsible for a number of spatial adjustment products as well as handling customer inquiries. His line of work is detail-oriented and requires laser-like focus to make parcel data as accurate as possible.
In addition to managing the ongoing maintenance of ParcelMap BC, Sean is involved with the ongoing spatial improvement process. Using the Spatial Improvement Assessment (SIA) app, a web-based map representing parcel accuracy, the ParcelMap BC Fabric Operations team identifies one to two  areas of interest each month. On average, this means the team is improving 10,000 parcels a month and, currently, Sean is nearing completion with the spatial adjustment for several regional districts in the province.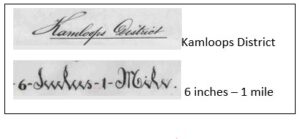 Sean has developed a hidden talent for deciphering hand-written cursive found on old land title documents. Intrigued by the stylized 19th and 20th century manuscripts, he is able to quickly translate what was written to ensure newly-created documents accurately reflect the original text that describes locations, dimensions and other land parcel details.
Ultimately for Sean, it's about creating a good relationship with customers, supporting efforts to improve data accuracy and helping to the best of his ability. The ongoing work of Sean and his colleagues ensures ParcelMap BC is an accurate and up-to-date resource for many organizations across BC, including local municipalities, regional districts and other government agencies.