Spatial Improvements in ParcelMap BC
Contents
ParcelMap BC is the current, complete and trusted mapped representation of titled and Crown land parcels across British Columbia, considered to be the point of truth for the graphical representation of property boundaries. It is not the authoritative source for the legal property boundary or related records attributes; this will always be the plan of survey or the related registry information.
To improve parcel fabric quality and integrity, spatial improvements are used to update both the relative and absolute positioning of survey parcels and to improve the accuracy of the parcel representations shown in ParcelMap BC.
Spatial improvements can range from simple transformations that only improve absolute positioning (not relative accuracy), through to rigorous least-squares adjustments that involve a full survey network adjustment of both relative and absolute position.
Spatial Improvement Process
The ParcelMap BC Operations team targets delivery of spatial improvements for 1-2 Areas of Interest each month. Areas of Interest are prioritized to address those areas of the parcel fabric most in need of improvement.
The various readiness criteria used to determine if and what type of spatial improvements could be applied in an area include:
Ratio of Survey (high quality data – example at Survey Plan Datasets) versus Inverse (unknown quality data – geometry from source polygons) parcel dimensions.
Number and spread of accurately surveyed control points.
Alignment of parcels to control points (i.e. bearing and distance of adjustment vectors between parcel points to known control points).
Connectivity in the parcel fabric of parcels to control points and between islands of parcels.
In well-aligned areas, where an adjustment would not provide a meaningful improvement (e.g. shifting parcels by a few centimetres), spatial improvements are not generally applied to the parcel fabric to minimize alignment issues with third party data.
For participating stakeholders, positional updates resulting from spatial improvements are available as a Change Vectors data product via the ParcelMap Direct Service.
"I love ParcelMap BC.  It's easy to use, and I trust the information I find in it. Awesome – Keep up the good work."

Andrew, BC  Land Surveyor
ParcelMap BC Spatial Improvement App
The ParcelMap BC Spatial Improvement Assessment app delivers a visualization of the analysis used by the ParcelMap BC Operations team to plan and prioritize spatial improvement work across the province.
Access the ParcelMap BC Spatial Improvement App
View Help resources for using the app
The ParcelMap BC Spatial Improvement Assessment app:
Provides transparency and insight into spatial improvement planning.
Provides a view into the assessed accuracy of the parcel fabric to broadly identify areas across the province with significant misalignment to control
Highlights areas where the assessment indicates an area's readiness and, if appropriate, as a candidate for improvement – see the list of Targeted Spatial Improvement Areas.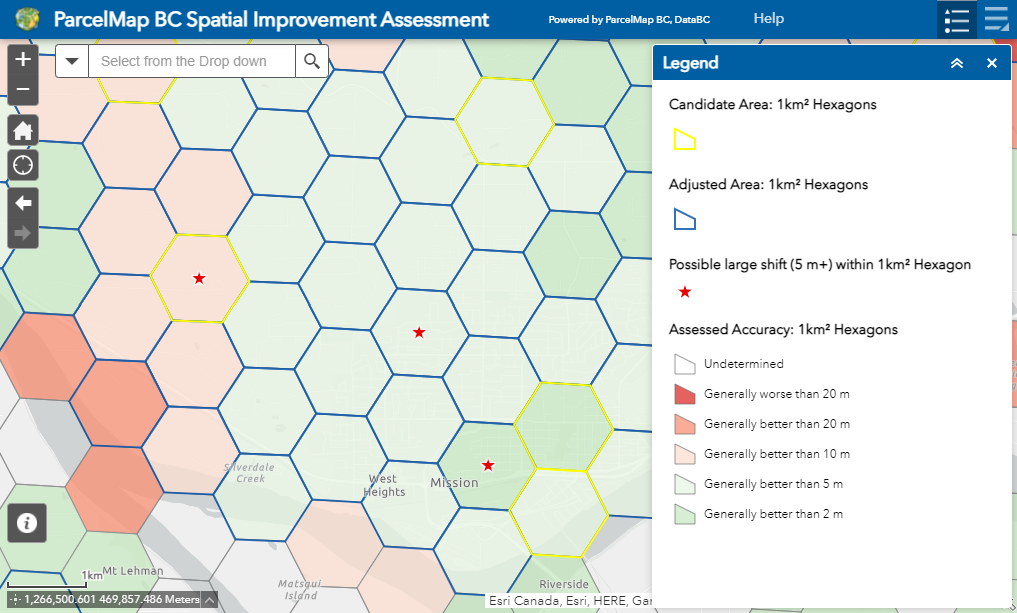 Cadastral Ties Submission Guidelines for Spatial Improvements
ParcelMap BC generally relies on new survey data including ties to known control provided in survey plan datasets to improve the spatial accuracy of the mapped representation. To provide additional inputs for spatial improvements, the ParcelMap BC Operations Team has defined submission guidelines for organizations to submit cadastral ties captured outside legal survey plans. Examples include infrastructure or construction surveys tied to legal boundaries which local governments and utilities may capture as part of their operations.
These guidelines can be used to submit new points to augment the level of control and help improve the mapping in areas which would have been otherwise challenging to update.
Submitted cadastral ties will be evaluated by the ParcelMap BC Operations Team to determine:
If the cadastral tie is suitable to be included in ParcelMap BC. For example, a submitted tie will not be included if:

The ties are captured using a means providing less confidence in absolute accuracy than suitable – examples include consumer grade GPS or unverified offsets.
Duplicate cadastral ties already exist in the fabric.

When a suitable cadastral tie may be used by the ParcelMap BC Operations Team to conduct spatial improvements.
If your organization is interested in submitting cadastral ties to ParcelMap BC, please contact parcelmapbc@ltsa.ca to receive a detailed guide and worksheet template on the attribution required for submission.