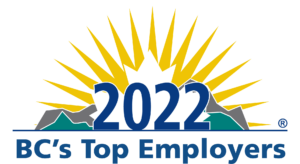 The Land Title and Survey Authority of British Columbia (LTSA) and our wholly-owned subsidiary LandSure Systems Ltd. (LandSure) have once again been recognized as two of BC's Top Employers by the editors of Canada's Top 100 Employers.
"We process more than five million land transactions each year, with around 97 per cent received online, thanks to the dedication of our employees and our distinct workplace culture," says Al-Karim Kara, President and Chief Executive Officer. "We take an agile, entrepreneurial approach to everything we do and continue to leverage technology to drive positive change. We take pride in the essential products and services we provide in this province and are always striving to build on our success."
"The BC Top Employers list validates what we at LTSA already feel: this is a great place to work," says Samantha Mitchell, VP Human Resources. "Many of us joined the organization because of LTSA's work in the public interest. Our employees are not only dedicated, innovative and talented, but they are also a group of people who clearly value and respect one another."
The LTSA and its subsidiary LandSure Systems currently employ more than 200 people in four offices throughout the province. A variety of career opportunities are available in areas such as research and development, information technology, customer operations, policy, human resources and more.
Now in its 17th year, BC's Top Employers is a special designation that recognizes those employers in BC that lead their industries in offering exceptional places to work. Employers are compared to other organizations in their field to determine which offer the most progressive and forward-thinking programs to attract and retain talented employees.